2010 Prediction Contest Suggestion
07-22-2009, 11:23 PM
leonbray
Team Principal


Posts: 3,493
Joined: Jun 2008
Reputation: 7
2010 Prediction Contest Suggestion
With so many quality teams entering next year why don't we run a Reverse prediction contest in 2010 - pick the last 8 runners, excluding DNFs
---

Locator of Shruberies
07-23-2009, 12:18 AM
Jackson
Team Principal


Posts: 4,385
Joined: Feb 2007
Reputation: 13
RE: 2010 Prediction Contest Suggestion
With Bourdais gone it could be difficult.
---

Copyright - Royal Dutch Dicky Graphic Design
07-23-2009, 12:30 AM
(This post was last modified: 01-06-2010 07:43 PM by mp422crazy.)
mp422crazy
Number 1 Driver


Posts: 607
Joined: Sep 2007
Reputation: 5
RE: 2010 Prediction Contest Suggestion
The bottom 5 teams will be (in order):

13. Manor
12. USF1
11. Campos
10. STR (Having to build their on car will kill them)
9. Force India

January 6, 2010 Edit.

13. USF1
12. STR
11. Campos
10. Virgin
9. Lotus
---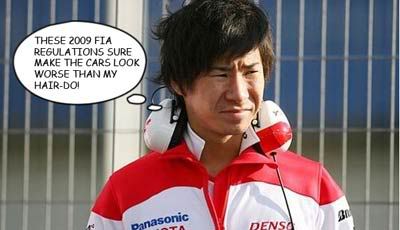 Proud Supporter of the Crazy Kobayashi
08-18-2009, 09:22 PM
RE: 2010 Prediction Contest Suggestion
I think Sauber will be back, when BMW can't find anyone to buy the facility they'll sell up to Pete. Seeing as they would have left everything last minute, there won't be enough time to develop and thus they'll be backmarkers.
---
User(s) browsing this thread: 1 Guest(s)